Hi, we're Phil and Gerda Francis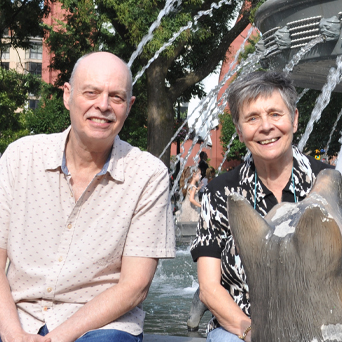 Phil was born in the UK and grew up in Robin Hood country near Nottingham. He studied metallurgy at the University of Leeds, but his love of music and singing got the better of him, eventually taking him to Belgium where he became a professional musician and met his wife, Gerda.
Gerda's passion in life has always been travel: visiting the great cities of the world and discovering new cultures. Her wanderlust developed at an early age. As the gateway to Europe, Belgium is the best place to learn a few languages. Gerda is fluent in Flemish, Dutch, French, German and English. She received a Master Degree in economics and lived for a while in London and Paris.
After they wed, Phil and Gerda decided they needed to make a big change. Canada held a particular fascination for them… especially the wonderful city of Toronto with its friendly people, low crime rate and diverse multicultural communities.
Opportunities arose to become tour guides for the city of Toronto and the Niagara Falls region. They immediately realized that guiding was something they really wanted to do, and it has been their great pleasure to showcase the city of Toronto to people from all over the world.
Toronto is the largest metropolis in Canada and is considered the economic capital of the country. It has an abundance of green space throughout its landscape of soaring skyscrapers. But what makes its waterfront skyline unmistakable is the iconic CN Tower. Standing at 553 metres, it is the tallest free-standing structure in the western hemisphere. It ranks number one on the list of Toronto's most popular attractions. Thrill-seekers visit it for the signature experience EdgeWalk. At 116 storeys, this is the world's highest full circle, hands-free walk on a 1.5-metre-wide ledge.
Toronto's Entertainment District is the heart and soul of the city's thriving theatre scene. The city has gained a reputation for high-quality off-Broadway productions.
In the centre of historic Old Town Toronto sits St. Lawrence Market… named the best food market in the world by National Geographic. It has served as Toronto's social centre, City Hall and marketplace throughout the city's history. Restaurants, artisans and specialty food vendors offer guests the unique and lively atmosphere of an authentic farmers' market.
Enjoy a brief overview of Toronto in this video vignette.