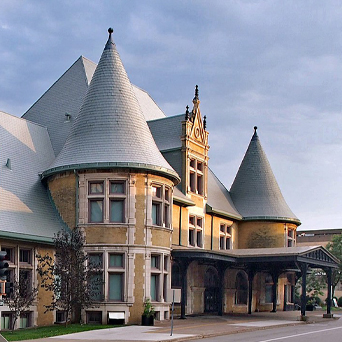 Duluth is the far western terminus of the Great Lakes region. It sits at the westernmost point of Lake Superior at the mouth of the St. Louis River.
Visiting Duluth by cruise ship is a special experience. All arrivals through the canal are announced over the public address system. Upon arrival at the inner harbour, guests have an immediate perspective of the port's cosy geography.
The town centre is adjacent to the port. The surrounding hills cradle the town. The old port and Canal Park are a short distance from where cruise ships tie-up. The Canal Park district represents a significant investment in repurposing heritage buildings and breathing new life into them through tourism.
The Lake Superior Maritime Visitor Center is free to explore. Moored in the port is the bulk freighter S.S. William A. Irvin, a well-preserved example of a classic laker.
Guests can hop on board a free troll to  Duluth's downtown. The St. Louis County Depot houses the Lake Superior Railroad Musuem, the Historical Society and the Duluth Art Institute.
The Lincoln Park district showcases a wealth of local goods, from pottery and jewelry to craft beers and ciders.
The Glensheen Mansion Museum is an impressive 39-room estate set on the shore of Lake Superior.
So much awaits guests in this suprising city. Check out the video vignette for an overview.