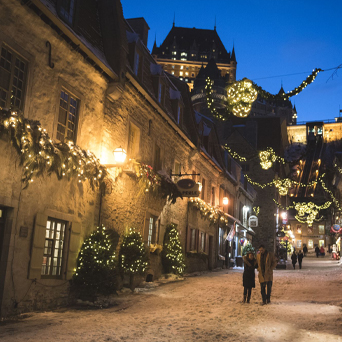 The St. Lawrence River port of Québec City dates to 1608. The city's history features prominently in the establishment of Canada. Originally a flourishing Algonquin First Nation settlement, Québec City is the oldest European colonized region in the country.
The historic district of Old Québec is a Unesco World Heritage Site… the only North American city to have preserved its walls and ramparts. The city is a cultural masterpiece of preserved architecture, museums, fine dining and shopping.
Cruise ships sail up the narrowing upper reaches of the St. Lawrence River past Île d'Orléans to get their first glimpse of the city, with the Citadel and Château Frontenac dominating the skyline.
The best way to understand and enjoy this unique city is by walking throughout its storied streets.
Arguably, Québec City's gastronomy scene is unrivaled in North America. Locally sourced ingredients are featured in the many fine restaurants.
Nearby attractions include the Huron Wendake Village that offers an authentic view of aboriginal life before colonization. Montmorency Falls are a short drive along the St. Lawrence River. The Shrine of Sainte-Anne-de-Beaupré welcomes almost a million visitors each year.
The perfect way to cap off the day in Québec City is a tour of the most interesting neighbourhood pubs.
Our video vignette on Québec City will be posted in November.