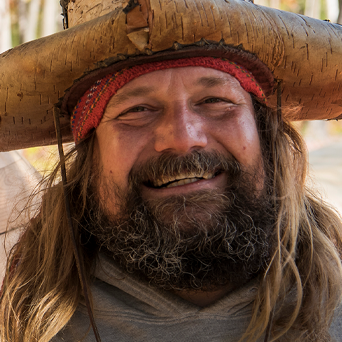 I moved to Killarney in 2017 with Spitzii: my navigator, campsite guard and best friend. He's a pure bred Finnish Spitz (the national dog of Finland).
After paddling through this amazing community, I couldn't help but fall in love with the place. The history, way of life and the true Canadian atmosphere along with the unique wilderness were simply amazing. With a nudge from local Elder, John Zuefle, I decided to take up residence here and start fresh!
What excites me most about Killarney is the location. A major fur trade route for hundreds of years leaves behind a past you can still see today. With a huge global green movement, Killarney is a great place to explore and enjoy adventures literally in the back yard. It's an excellent place for the beginner or the most seasoned of explorers to enjoy all of Mother Nature's gifts and elements.
The importance of sharing my experiences and knowledge of the bush is simple. I want people to feel comfortable, safe and confident when venturing into the wilderness. I want to teach others how to be responsible to and respectful of the land and all its inhabitants. It's rejuvenating to get in touch with nature to clear your head and find piece of mind.
Killarney is a paddler's mecca. The town is beautiful with some pretty colourful people. Like many small northern communities the locals appreciate the tourist season and look forward to welcoming visitors from all over the world. There's a smile on every corner.
I built a 110-ft. World's Largest Paddle for appreciation of our veterans; especially the service men and women of WWII. It was my way of saying thanks to an amazing generation that we are quickly losing. I wanted to have a place for all to pay respect to these people.
I look forward to seeing you in Killarney.
Watch the Killarney video for an overview of the region.