Hi, I'm Michelle Clarabut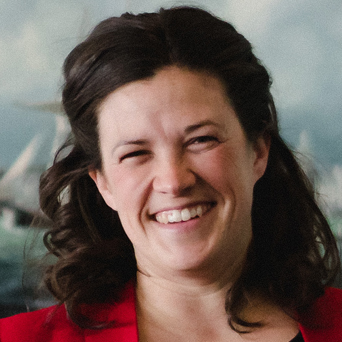 I'm the Programs and Communications Manager for the Marine Museum of the Great Lakes at Kingston, located on the shore of Lake Ontario at the Kingston Dry Dock National Historic Site. When you make your plans to travel to Kingston by boat, I hope you will dive further into our rich maritime heritage. Kingston's history, industry, sport and culture have all been shaped by our location on Lake Ontario.
The Marine Museum has a variety of activities and learning opportunities for both kids and adults. One of my treasured memories of growing up in Kingston is visiting the Marine Museum with my grandfather. I'm sure that had something to do with my career path as a cultural historian and my appreciation for my family's history. My educational pursuits took me abroad for a number of years where I researched cultural heritage and became an advocate for cultural property. It was when I was overseas that I learned of the Museum's move from its historic site, much to my dismay. The opportunity to support this institution and its navigation into the future upon my return was an opportunity I couldn't let pass. [After five years away, the Marine Museum recently moved back into its historic home at the Kingston Dry Dock in downtown Kingston.]
In my work, I welcome families interested in learning more about the community, as well as researchers exploring shipbuilding, tracing ship routes or delving into maritime art. Our programs continue to grow each year, and in 2022 will include arts and environmental-based programs in an effort to connect visitors with our heritage. Keep an eye out for the return of our on-the-water programs too! Later in the year this will include the installation of an interactive Great Lakes Floormap project, biinaagami, in partnership with the Royal Canadian Geographic Society and further enhancement of our national historic guided tour. Personally, my favourite artifacts are the shipbuilding tools – a rivet gun and rivet head, which were used when building ships. I'm always amazed at the sheer strength required to operate the equipment.
Whether you're interested in shipwrecks of the Great Lakes, the history of Kingston and Canada, local ecosystems or simply want to explore a new community through a friendly, accessible museum, please visit us at the Marine Museum of the Great Lakes. Our museum is right on Kingston's waterfront pathway, extending from Kingston's vibrant downtown along the lake through the city's historic district.
If you're planning on staying in Kingston for a little while, I highly recommend exploring any one of our 30-plus museums and galleries. There really is something for everyone, whether it's the Museum of Health Care, Murney Tower Museum or the Penitentiary Museum. Either way, you're going to need sustenance for your journey, in which case I'm a big fan of White Mountain for some homemade soft-serve and Atomica for a great patio atmosphere and delicious Italian eats.
Watch the video vignette for an overview of beautiful, historic Kingston.