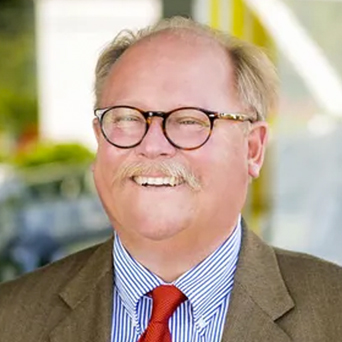 I'm the resident historian at Grand Hotel here on Mackinac Island, Michigan. I have over 37 years of experience in historical preservation in Michigan, Florida and Georgia. A particular interest of mine is the study of turn-of-the-century wood frame hotels. I assembled Grand Hotel's first archives and published a book and DVD on its history. I also represent the hotel as a member of Historic Hotels of America, by whom I was named American Historian of the Year in 2015.
Although I came to Mackinac Island specifically because of my interest in Grand Hotel, I have since become completely enamored of the beauty and history of Michigan and its people.
Mackinac Island is one of the most popular vacation destinations in the Great Lakes region.
Guests will discover that this unique national landmark is devoid of automobiles and big chain hotels. Instead, they'll find well-preserved history, diverse shopping and dining, and unforgettable sunrises and sunsets.
Bicycles and horse-drawn carriages replace cars. Step back in time, where the clip-clop of hooves, fog horns of ferry boats and stunning Victorian-era architecture make Mackinac the jewel of the Great Lakes.
The storybook charm of the island combines with a selection of upscale lodgings and a generous assortment of activities. Trip Advisor ranks Mackinac as a Top Ten U.S. Island destination and the number one summer destination in the country.
There is nothing quite like arriving at the Grand Hotel for lunch in a horse-drawn carriage. The Grand luncheon buffet will impress even the most discriminating palate.
With old-world hospitality of a bygone era, the Grand Hotel has been welcoming guests since 1887. The hotel continues to embrace its rich history and cherished traditions. There is always a rocking chair waiting for guests on the world's longest porch. Sip afternoon tea, a glass of wine or your favourite cocktail as you take in the magnificent views of the Straights of Mackinac.
There's a lot more to see and do on Mackinac Island. Have a look at the video vignette and you'll see for yourself.