Hi, I'm Naokwegijig, but you can call me Tim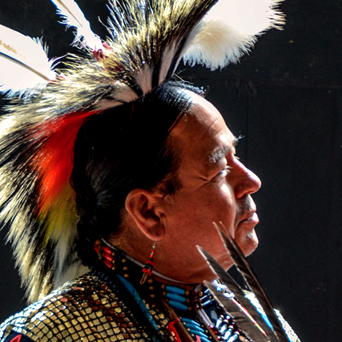 I consider myself to be a traditional Anishinabenini who dances the Northern Traditional style of dance. I have been involved with jiingtamok, sometimes known as pow wows, for many decades and gained considerable knowledge of the history and teachings.
After a lengthy career of First Nation public service in federal, provincial, state, Tribal Council and private sectors, my focus is on sharing the culture and traditions of the Anishinabek. As part of a multi-generational, home-based family business called Rolling Thunder Dance Traditions the splendor of our culture is shared through teachings:custom regalia-making, dance and performances of the jiingtamok. You can witness our performances here in Little Current.
Little Current is nestled on the northeast corner of Manitoulin Island, the largest freshwater island in the world, where Indigenous life and legend meld with European history. The island is surrounded by Lake Huron including Georgian Bay and the North Channel.
Approaching the Port of Little Current through the North Channel, guests will be treated to some of the most scenic views anywhere on the Great Lakes. Heading eastbound into Georgian Bay through the swing bridge and past the Strawberry Island lighthouse, the transit through the North Channel is one of the most popular recreational boating areas in the world.
The cruise ship pier is located in the quaint downtown of Little Current. Visitors can enjoy shopping, strolling along the docks or simply relaxing at the waterfront parks. In the summer, the harbour teams with pleasure craft of all sizes. Each year some 3,000 boats tie up at the new town docks or at one of three marinas.
Time seems to pass a little more slowly on Manitoulin, making your guests' island port call a memorable one. The island has long been held sacred by the Anishinaabe people. Identified as the "People of the Three Fires," this confederation comprises the Ojibwe, Odawa and Potawatomi tribes. With towering cliffs, vast wilderness, gorgeous inland lakes and abundant wildlife, Manitoulin remains sacred to this day.
Check out the video vignette for more on our informative and enriching shore excursions.