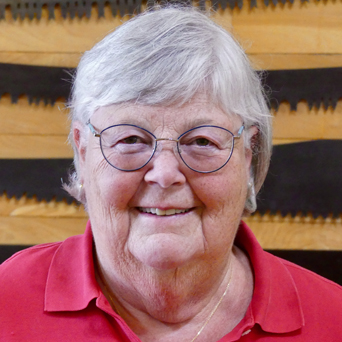 I'm a fourth-generation West Michigander. Both of my great-grandfathers brought their businesses here around 1890. I grew up north of Muskegon on White Lake, attended local schools and graduated from the University of Michigan. After a career as a librarian-media specialist, I returned to the White Lake area with my husband. Little did we know that our experience as teachers, love of local history including that of our families and the industrial history of Muskegon would begin an unbelievable journey to help the Heritage Museum grow into what it has become — a fascinating and popular destination for cruise ship guests.
The Heritage Museum is located about three blocks from the cruise ship dock on Western Avenue. It comprises three floors with 12,000 square feet of exhibits. Features include many familiar items made in Muskegon, working vintage machinery demonstrated by museum docents and the unique stories of the businesses, industries and products that made Muskegon become a world leader in manufacturing. We love meeting cruise ship guests, sharing our love for the history of this town and hearing their stories.
The City of Muskegon is nestled on the southern side of Muskegon Lake along the eastern coast of Lake Michigan. The largest city on the West Michigan Coast, it is a vibrant destination for Great Lakes passenger ships.  Known as the "Riviera of the Midwest," Muskegon has 26 miles of sugary sandy beaches, three state parks and a unique combination of public art, historic architecture, water-based activities and social gathering locations. Downtown is just moments away from Heritage Landing, the main cruise ship dock.
A convenient hop-on-hop-off trolley tour includes stops at the Muskegon Heritage Museum, Western Market Shops, the world-class Muskegon Museum of Art, the Lakeshore Museum Center and the Hackley-Hume Historic Site, the Victorian homes of two Lumber Barons.
Muskegon is home to three ship museums: two decorated warships: the USS Silversides submarine and the USS 393 LST (Landing Ship Tanks) and the Milwaukee Clipper passenger ship.  Tours and exhibits in all three offer true hands-on exploration.
A visit to Muskegon would not be complete without visiting the "Singing Sands," the Lake Michigan Beach. The beach sand here makes a unique sound when walking on it. Trolleys run to the beach from Heritage Landing and downtown on a regular schedule.
We invite you and your cruise guests to share this special place we call home.
Take a virtual tour of Muskegon with the video vignette.