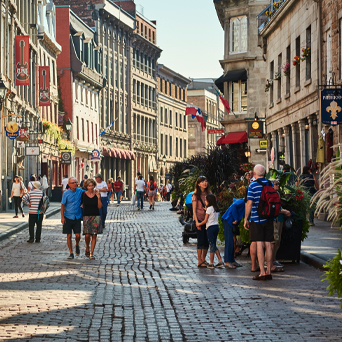 Montréal is Canada's second largest city and the second-largest francophone city in world.
With an abundance of world-class amenities, Montréal is a perfect turn port. With so much to see and do in Montréal, it's a good idea to participate in a guided tour. Professional guides can take guests on a whirlwind adventure of all the top sites, or focus on a more intimate, specific visit.
As cruise ships dock at the foot of Old Montréal, guests are immediately immersed into a bygone era. Narrow, cobbled streets… the scent of freshly baked goods wafting by… quaint shops and cafés… this fascinating section of the city conjures images of Europe.
The heart of Montréal is festival central. In the Quartier des Spectacles, the city presents world-famous events like the Just For Laughs comedy festival, and the world's largest International Jazz Festival.
Montréal is known for its world-class shopping, boutiques and outstanding dining. But the city is arguably most famous for its delis, with their signature bagels and smoked meats.
Cruise planners are starting to consider Montréal as a winter destination. The port is open year-round and the city and surrounding countryside offer plenty of wintertime activities.
Watch the video vignette for a small sampling of all that Montréal has to offer.