Hi, we're Rosemary Vyvyan and Jamie Hunter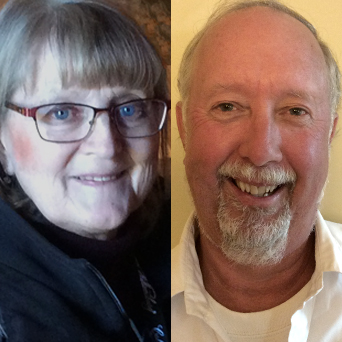 Rosemary's interests are in all things ancient.  Her training in archaeology and museum studies led to her long-term management positions at Sainte-Marie-Among-the-Hurons, a designated nationally significant historic site. She has worked at several Canadian museums and in her retirement, she is part-time faculty in the Museum and Gallery Studies program at Georgian College. Rosemary is equally passionate about welcoming cruise ship guests to the region and making certain that they absorb the most interesting facts.
Jamie has spent the majority of his life studying the Indigenous people who once lived in what is now known as Huronia. He has worked on the archaeological excavation of many Wendat sites and has published his research on the contact period when French Jesuits came to live in the region. Jamies was the Director/Curator of Huronia Museum for 26 years. He recently co-authored a book on the sinking of the historic steamship, Waubuno in Georgian Bay. He has welcomed and guided many cruise guests to Midland with passion and a wealth of knowledge.
The town of Midland is situated in southern Georgian Bay's Simcoe County. The region lies within the world's largest freshwater archipelago. It is replete with iconic landscapes, diverse habitats and cultural history dating back 5,000 years. Evidence suggests that this area may have been inhabited by aboriginal peoples for more than 11,000 years.
Midland is the economic centre of the region. During the summer months, the population grows to over 100,000.
Ontario's very first European community was Saint-Marie among the Hurons. The ruins of Sainte-Marie lay undisturbed for nearly three centuries. Archaeological excavations facilitated the means to accurately reconstruct many of the original buildings. Today, the world-renowned site provides visitors a unique opportunity to witness the earliest Canadian pioneer life.
Among our shore excursions is a visit to the 1907 steamship, S.S. Keewatin, one of two built to cater to tourism on the Great Lakes.
The Wye Marsh Wildlife Centre is spread over 1200 hectares of wetlands and woodlands. The marsh is home to the rare trumpeter swan, several other bird species, painted turtles and otters.
Watch the video vignette for a more complete overview of our shore excursion offerings.